News Events
Archive of News and Events
---
Shenai is his soul

Hindu.com
Oct 25, 2002 (Fri), Chennai
Copyrights © 2006 MSVTimes.com
All Rights Reserved
Site Best Viewed 1024 x 768
---
---
News Events
Maestros together: Ustad Bismillah Khan receiving the Lifetime Achievement Award from A.R. Rahman as M. S. Viswanathan, another king of melody, looks on.
- Pic. by R. Shivaji Rao.
CHENNAI'S MUSIC lovers enjoyed an evening of pure delight on October 20. Ustad Bismillah Khan Sahib and his troupe performed for two hours to a full and appreciative audience at the Music Academy, thanks to the Amir Khusro Sangeet Academy. Ustadji belongs to an illustrious lineage of shehnai players who traditionally played at the Raj Durbar of Bhojpur State in Bihar and later at the Kasi Viswanath Temple in Varanasi. Practising at the temple and the banks of the Ganges were a legacy he inherited from his maternal uncle and teacher, Ustad Ali Bux, renowned vocalist. Ustad Bismillah Khan Sahib has adapted and refined the Gayaki ang for shehnai revealing his versatility in his repertoire.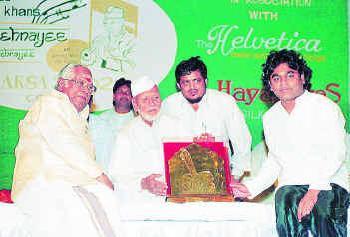 At 87, Khan Sahib has a saintly demeanour and the same pious and enigmatic personality he had when he was young. His music and belief mirror his inward being. The artiste and the man are the one and the same in him. In conversation, Ustadji said that there was only one religion and that was "Sur" rendition.

Hence it is important that Sur be nurtured and sustained. "Gaa na, Baja na, kar tab" form his philosophy of rigorous training - "no singing, no playing, till you practise." He believes "Ek Sadha, sab sadhe, sab sadhe, sab gaye" that is, "If one could perfect one, one could perfect all. In the pursuit to perfect all, one would lose all." He equates the shehnai with the human soul vitalised by the human breath.

Initial annoyance at the late start of the programme on that Sunday evening gave way to appreciation of the deft control of the maestro as the audience warmed up to his delicate reproduction of intricate patterns and his impromptu breaking into a Thumri, presented with relaxed freedom. One was reminded of a beautiful couplet: "Jab bhi deta hai koi daad samaj kar Gauhar, jaise fanker jo jeene ki tamanna deta hai". An appreciative audience gives a fresh lease of life to the artiste.

The concert opened with raga Madhuvanti. The Ustad's delineation of the dominant note ``pancham" and the sustenance on the consonant note shadaj ``sa" bringing out the vibrant patterns with ease was commendable.

He often broke into a Kajri, a melodic dhun sung in the rainy season in Varanasi that is a happy mix of folk and classical styles. Given the constraints of his age his melodic rendition was occasionally disturbed, but he quickly overcame the hurdle as a gentle rippling brook takes listeners by surprise when it breaks into laughter meeting pebbles gushing through a span of full three octaves.

Ustad Bismillah Khan was at his very best while performing Raga Kedara which brought into full play his developed imagination and aesthetics to weave in quick succession, fascinating note compositions taken in "Maend" - a smooth glide from one swara to the other, from a higher octave to a lower one. Kedara rendered in the first quarter of the night takes madhyam as its vadi and shadaj as its samvadi. It omits rishabh and gandhar in the aroha while gandhar is employed in a peculiar manner in vakra in avaroha. The use of both teevra and shudh madhyam in the avaroha was done with great finesse. The ascendance from shadaj to madhyam was taken superbly depicting a mood of sublime dignity. The tabla played by Khan Sahib's youngest son Nazim Ali was outstanding and reminiscent of Ustad Zakir Hussain.

The occasion also brought together A. R. Rahman and M. S. Viswanathan. A highlight was the Lifetime Achievement Award, conferred on the Ustad by the Amir Khusro Academy, which he received from Rahman. It was only appropriate that musicians schooled in tradition but masters of innovation shared the same forum.

By JYOTI NAIR BELLIAPPA