News Events
Archive of News and Events
---
A tribute to MGR
Talent that walked tall in tinseldom

Hindu.com
Jan 14, 2003 (Tue)
Copyrights © 2006 MSVTimes.com
All Rights Reserved
Site Best Viewed 1024 x 768
---
---
News Events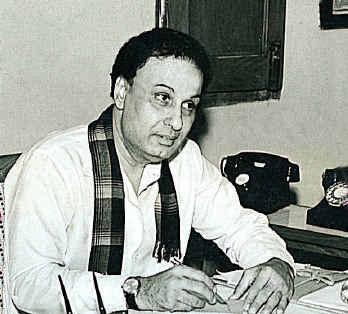 MGR endeared himself to many as a connoisseur of the fine arts. And January 17, his birth anniversary, is an occasion to pay tribute to the legend, who left an indelible imprint not just on celluloid but on the political scenario of the State.

COME December 24 every year and film buffs in the city will nostalgically remember the late MGR, who acquired a vast fan following both in Tamil tinseldom and politics. Such was the greatness of his persona that MGR became practically immortal much before his demise, not only through his popularity as an actor, but also as a connoisseur of music and dance. Having belonged to a drama company, it was essential for him to know the basic dance steps, which he put to good use later in his film career.
M.S.Viswanathan, music maestro, recalls his association with MGR fondly. "He was born with a taste for music. He knew the nuances of acting, dance, music, a good story line, knew how to tap expertise...all this sans an ego. And he would perform the dance movements that had been specially choreographed for him to the extent he could do justice to them and to the choreographer. He was a great man, who helped everybody. He had this extraordinary humane touch.

"For each film song MGR would request that seven or eight tunes be composed and then approve the melody that appealed to him the most. What seemed `vedanai' (nuisance) at that time, is now `saadhanai' (achievement), beams M.S. Viswanathn, for each song has proved to be full of `meaning and meter'. Even "Aadaatha manamum undo" in "Mannadhi Mannan" was chosen by MGR, after listening to six songs composed for the same situation. The M.L.Vasanthakumari-T.M.Soundararajan hit, shows MGR teaching dance to Padmini in the sequence. And MGR deftly matches his steps with those of Padmini, a dancer of no mean talent.

K.V.Mahadevan, S.M.Subbiah Naidu, Viswanathan-Ramamurthy - MGR's involvement and suggestions made their melodies hits; he had such a masterly ear for the right tune. To learn the dance steps for a song, MGR would seek out gurus such as P. S.Gopalakrishnan, and Dandayudapani Pillai.

along when the music was being composed, and give his opinion after listening closely to the tunes. On one occasion, while attending a wedding, MGR heard A.K.C. Natarajan's clarinet concert, and discussed the various ragas being played, with Ramamurthy, thoroughly enjoying the `kalyana kutcheri.'

Much after his retirement from the cine field, and while well into politics, MGR still revelled in music and used to listen to AIR and Doordarshan music programmes. One such occasion was when he chanced to hear the violin concert of Ganesh and Kumaresh on DD, as teenagers, in an evening programme. So impressed was he with their skill that he immediately shot off a letter to the Madras DD Kendra. The letter was read out in the `Ediroli' programme, where viewers' letters are read and discussed. MGR praised their music and went on to sanction a monthly payment of Rs.2,000 to them for two years, to help them practise their art without hardship.

Many musicians and artistes have such tales to tell, tales which all grew to make the legend of MGR, an undying `kalarasika' who endeared himself to all who knew him, and to millions of fans.

By RUPA GOPAL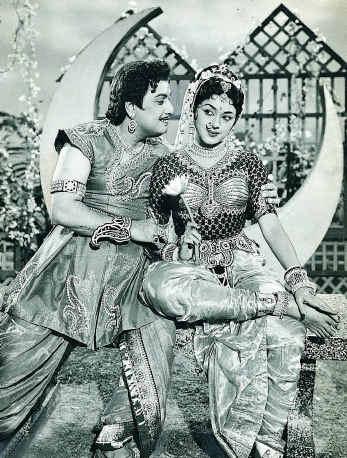 In the film "Madurai Veeran", MGR can be seen teased by a bevy of girls in a dance sequence, and here his agile steps showcase his skill as a dancer. In the popular number "Pallavan pallavi paadattumae, parthiban kaadhali aadattumae' with Saroja Devi, MGR can be seen even performing `kudhitha metti' - a fairly complex Bharatanatyam dance step, involving synchronised foot and hand movements - with aplomb. It is said that he used to rehearse for hours, to get the steps right.

MGR had a special fondness for M.S.Viswanathan, and used to bring audiotapes from abroad, from which the composer could draw inspiration.

MGR practised hard for the bhangra number "Aadaludan paadalai kettu rasipadilae thaan" in the film "Kudiyiruntha Koil", which he performed with Vijayalakhmi. Laya was inured in him, whatever be the dance form.

M.S.Viswanathan's partner Ramamurthy too recalls MGR's special interest in music. He says that MGR used to come
M.G.R