Sivaji Ganesan - Cigarette - Style
This is a presentation to showcase and highlight how even a cigarette gets life when it lies in the hands of the greatest Legend in Acting the world has ever seen - "Nadigar Thilagam" Sivaji Ganesan, Now straight to the topic....
Film: "Ooty Varai Uravu"; Song: "Thedinen Vandhadhu"
When one speaks about "Style", that too with "Cigarettes", this song would definitely be a fore-runner!!!
Start of the song.... Nadigar Thilagam carefully watches the activities of K R Vijaya", ofcourse he is not in a mood to enjoy her movements!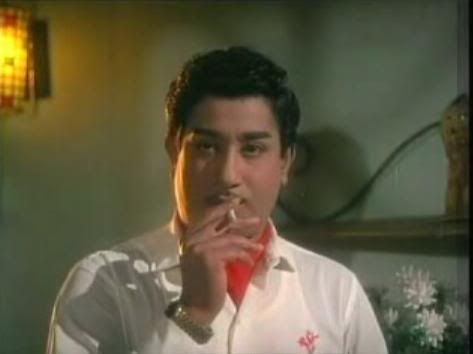 See his pose.... Just awesome
He takes a puff... and
...then his hand just move ONLY till waist.... Because if he moves his hand still below, the Cigarette will not be seen in the shot. How do we describe his Genius ?!
His shadows seen on the walls.... Even that is stylish!!!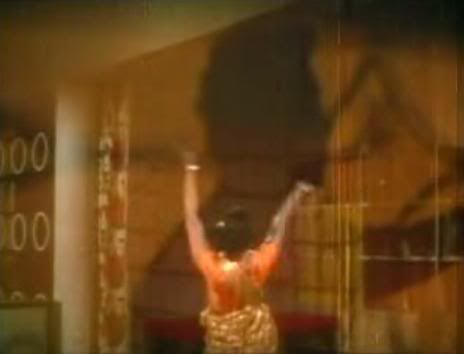 Amazing camera work by Sridhar and his Team..... Kudos !!!!
And now, the Ultimate shot in the song, according to me....
Ok, why this shot is special, you may wonder. In all other shots Cigarette will be in his Right Hand.... Only in this frame he will have his Cigarette in his left Hand. Since his left hand is facing the camera and if he had held the cigarret on his right it would be hidden from the camera, he has placed it on his left... That is "Nadigar Thilagam" !!!!!
My dad used to tell me that....Ganesan will always be careful & cautious that a camera is watching him. How true ?????? And its Great Observation, dad !!!!!!!
And throughout the song, except during taking puffs, the cigarette would always be around his waist. But this is just in this song.... We will see how he plays with Cigarette in other great songs!
Film: "Paar Magale Paar"; Song: "Neerodum Vaigayile"
When the song starts he will have the cigarette in his right hand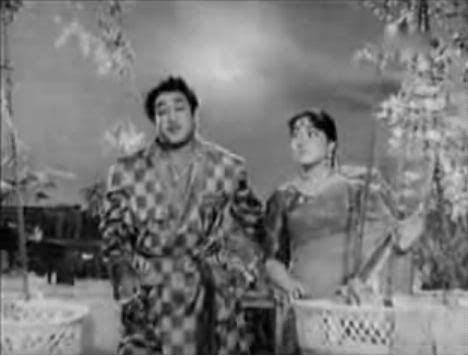 During the course of the song (before the first interlude), see how he seemlessly transfers from one hand to other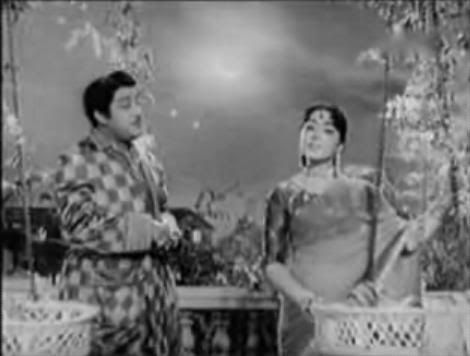 And the cigarette is transferred.... How he effortlessly moves the cradle and observes the child in the cradle !!!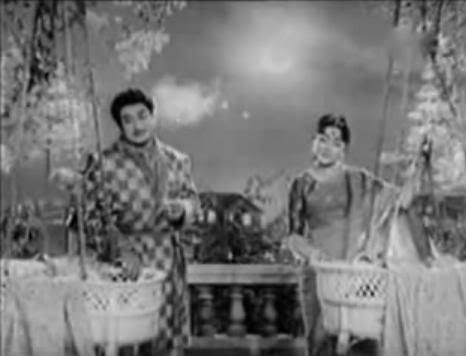 Blows out smoke in Style while whistling
A Perfect Photo-Genic Face!!!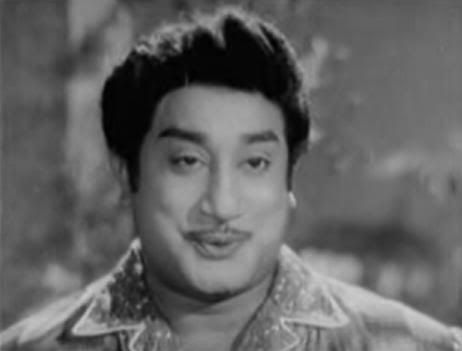 Very interesting part, when he throws away the cigarette from his hand
Next song which is very well known for his Smoking Style
Film: "Shanthi"; Song: "Yaar Andha Nilavu"
His smoking mannersim clearly shows that he is wondering and wandering with the question: "Why am I in this world???"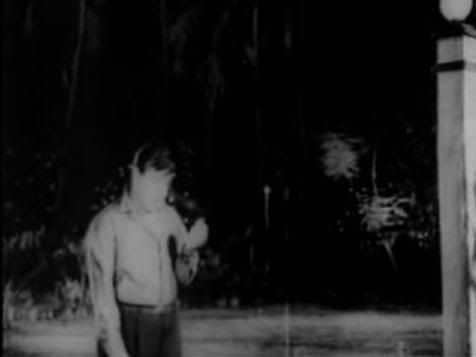 Careless (but he is extremely careful) in holding his Cigarette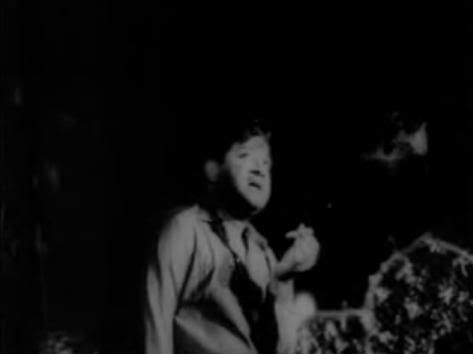 Amazing way to dust the Cigarette ash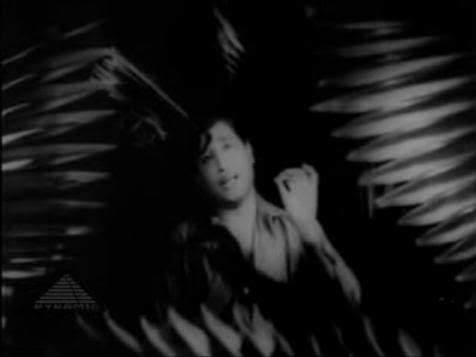 Trying to calm himself with that stylish blow of smoke....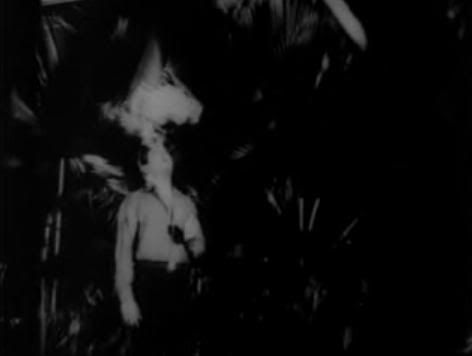 Who would dare to show their back while holding the cigarette on the hand ?!?!?!?!
Important scene from a great film:
"Gauravam"
Wow man!!!!! See his Pose, his crossed legs, how he rests his one hand while other holds the pipe stylish; Simply Awesome !!!!
Same shot - close-up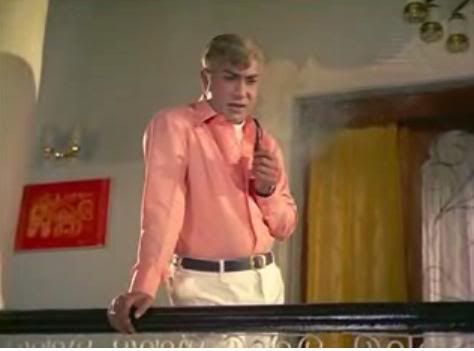 See how he changes his postures and GENERATES Style !!!
A sarcastic smile...
See how he swings his hand, which holds the pipe...



When Pandari Bai wishes the younger Sivaji "Good Luck", first the senior Sivaji is surprised.....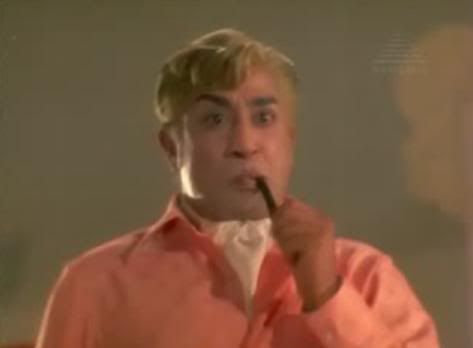 Later the surprise turns to Anger

His eyes convey a thousand emotions !!!!!
Last but not the least, the ultimate....
Film: "Pudhiya Paravai"; Song: "Paartha Nyaabagam Illayo"
Opening shot of the song. "Nadgar Thilagam" lights up the the cigarette on his right...
Takes a deep puff, holding the cigarette on his left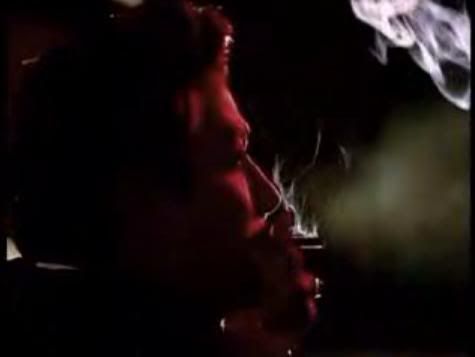 And then blows out fully!!!
See the way he hold the cigarette
He kind of gets curious seeing the singer...
He hides his "BLUSH" with his hand while he takes a puff..... Greatest Acting !!!!!!!!!!
MAJESTIC !!!
When we go to a corporate party in our office, it is worth to watch this song and study his table mannerisms.... Simply great!!!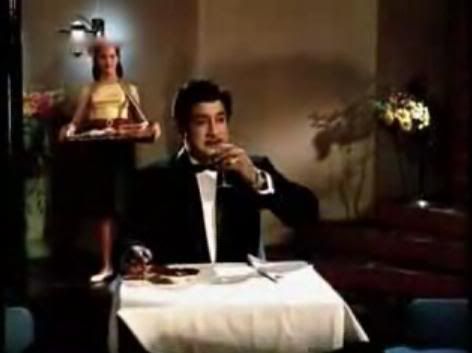 A Classic Romantic Hero of all times... Atrociously Handsome !!!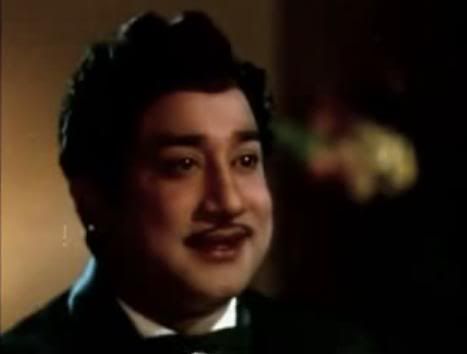 Innocent Smile....Slowly getting interested in the singer
A slightly different way of holding the cigarette...That again Stylish!!!
Cleans his tongue from the Cigarette Ash.... Wah Re Wah !!!!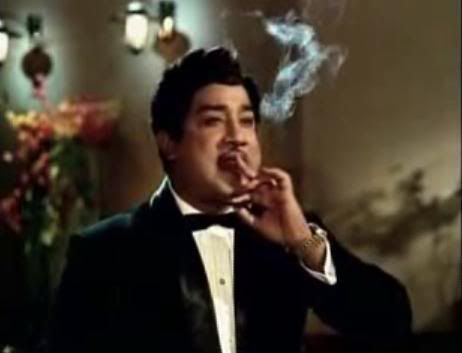 How the cigarette is sticking to his smile.... does he use any adhesive ???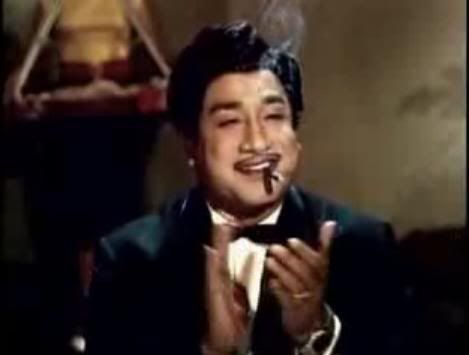 Richness in the character overflows in his Style !!!



சப்தத்தையும் ஸ்வரமாக்கியவர் மெல்லிசை மன்னர்.... எழுத்தையும் எதுகையாக்கியவர் கவியரசர் - பாடலில்!

புகையையும் தன் துணை நடிகனாக்கியவர் நடிகர் திலகம் - காட்சியில்!

இவர்களைக் "காலத்தை வென்ற கலைக் கூட்டணி" என்றுரைப்பதில் துளியேனும் பிழையுண்டோ ???
_________________
Ramkumar