TitBits
Interesting Info
---
MSV's Peculiar Writing Style:
MSV writes in a unique way holding the pen in between the index and the middle finger!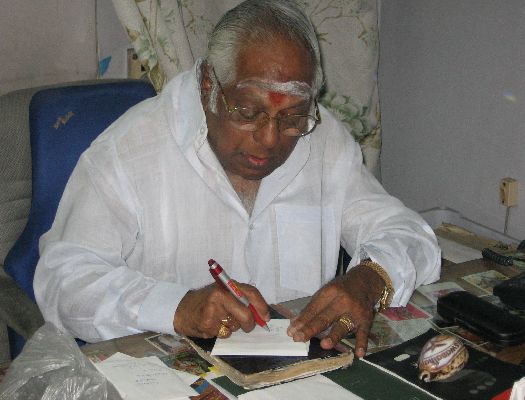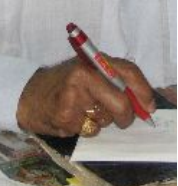 MSV 5052! - "Old is Gold; New is Platinum"
MSV still adores his priceless possession - MSV 5052, his black bug fiat. Many great musicians have watched the car, as if watching a great prosession on the road. MSV still preserves that priceless possession of his. On the Sarawathi Pooja day, he visits the Kapaleeswarar temple and takes his Fiat for a scroll around the temple tank! His present car is black Hyundai Accent - TN 07AM 5052.
(Car photos and videos coming soon!)
"Santhome Mahaan, MSV!" - R.Visweswaran
Visweswaran, a great Santoor Player, Flemengo & Bass guitarist has been associated with MSV for more than 2 decades. He considers MSV as his "Maanaseeka Guru"! (meaning, the Mentor). Visweswaran's interesting titles to MSV:
* "Santhome Mahaan" (means a divine person from Santhome, MSVs place of residence).
* "Swayamboo" (A holy creation, formed by itself, through nature).
* "Avataara Purushar" (A Humanly form of the Divine).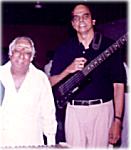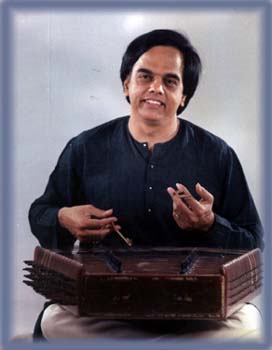 ---
Copyrights © 2006 MSVTimes.com
All Rights Reserved
Site Best Viewed 1024 x 768
---
MSV-Mangaadu Kamakshi Amman
MSV has been performing at this temple on the outskirts of Chennai for the last 29 years without a break during the Saraswathi Pooja celebrations. He attaches a very special importance for this concert.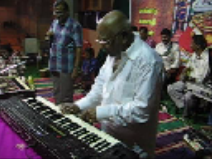 Journey
MSV on keys
Mangaadu Temple (Oct 2006)