Awards
Titles, Accolades, Awards
---
"Mellisai Mannar"
King of Melodies (or) King of Light Music

MSV personally feels this title as his Best Title as it is awarded by people to express how much they love MSV's melodies! MSV and T.K.Ramamoorthy were called as "Mellisai Mannargal". Even till now MSV lives to his title. "No compromise on Melody" is his word, always!
"Kalaimamani"
A Jewel for Art

An award from the State Government of Tamil Nadu, India, to honour his invaluable contribution to the Tamil Film Music.
"Isai Perarignar"
Great Scholar in Music
---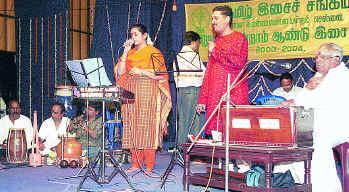 TAMIL ISAI Sangam honoured "Mellisai Mannar" M.S.V with the coveted `Isai Perarignar' title for the year 2004. The award re-assures the fact that Viswanathan's contribution to music is undoubtedly something extraordinary


"Paramacharya"
The Ultimate Guru

"Paramacharya" award is given to the leaders and fore-runners in the respective fields. MSV received this award in August 2006, for being a leader in Film Music for decades together.
---
---
"Life Time Achievement Award"
For More than Life-Time Achievement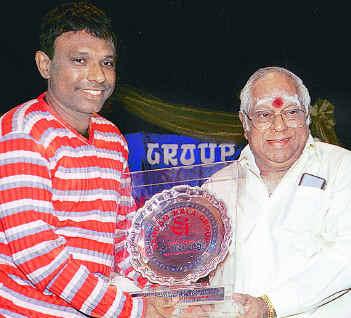 MSV was honoured with Lifetime Achievement Award by the Sangam Kala Group in Feb, 2004. MSV presents another award to Ramesh Vinayagam at the function.

---
---
"Doctorate"
Honorary Doctorate for Music
MSV was honoured with Doctorate by Sathyabama Deemed University for his achievements in Music. He was declared "Dr.MSV" in August 2006, by the University Chancellor Mr.Jeppiar.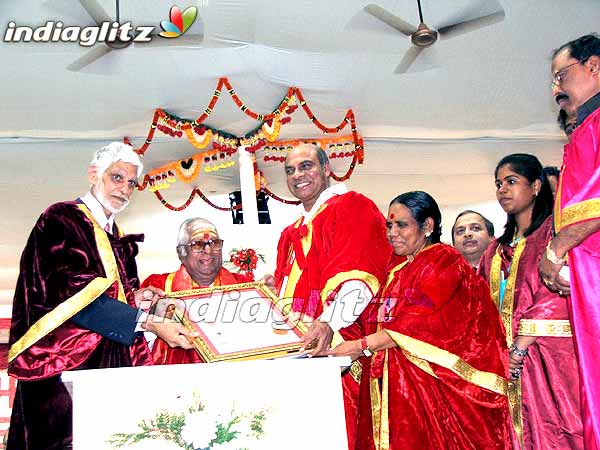 ---
Copyrights © 2006 MSVTimes.com
All Rights Reserved
Site Best Viewed 1024 x 768
---
---
"Madhavappedi Sathyam Award"
From Siva Foundation


---
"Kamukara Award"
An award from Kerala

THIRUVANANTHAPURAM Dec 28, 2003. The Culture Minister, G. Karthikeyan, presented the seventh Kamukara award to the noted music director, M.S.Viswanathan, at a colourful function here this evening.
The award was presented to MSV and actress Vanishree in Jan 2005.

Journey